This revolutionary new theme is incredibly easy to install – simply upload it into the themes folder, click activate – that's it!
As with all their themes, iThemes have included a My Themes widget, providing links to special features within the theme itself, as well as relevant information for the configuration of WordPress.
The layout editor offers complete flexibility in building a great website by allowing modules (content areas with and without sidebars, navigation, images, a footer, HTML areas and widget bars) to be inserted without the need to know a thing about codes.
The included – free – child themes create a solid basis for site designs by providing typography, structure and various colour palettes; there is an option for any imaginable project and it is even possible to create one's own.
The Style Manager quickly and easily makes tweaking the CSS, changing backgrounds, matching colours to individual preferences or trying different fonts possible without any knowledge of codes.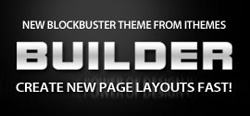 Builder also incorporates two very useful SEO options – users control how they want to be located by choosing either the basic or advanced options. For those already using plug-ins (such as SEO All-In-One), the Builder will keep existing settings.
This incredible package consists of the Builder, a multiple use license – the theme package may be used on as many sites (both client and personal) as required, the Style manager for codeless tweaking, a continually increasing collection of extra (bonus) child themes and a whole year of updates and support.
Configuration
As well as being quick and easy to install – upload, activate, done – Builder has several configuration options that make life simple!
The navigational menu is configured by simply checking a box by the page names to be included – ready. A second, yes/ no option determines whether default text widgets will carry default text for ease of identification. "Yes" keeps things easy throughout.
Then there are various options for the tracking code, usually placed on the footer of a theme.
SEO options include using post tags (meta keywords) for single posts or category archives for indexing by search engines.
The most exciting part is the layout builder. There are four ready made layouts, but creating a personalised layout is much more fun.
This is done in a few simple steps: first, the new layout has to be named; then the width is selected (600px narrow, 780px medium or 960px wide). Step three is to select an extension – doing this allows the layout to make changes to the style.css and, if required, disable the style.css file of the theme. Hiding widget areas – for ease of working on the theme – is another option.
The best part of the process is creating a design without the use of codes. Builder currently provides a choice of six self-explanatory modules – content, HTML, footer, widget bar, image and navigation – to be inserted .
A page template builder allows views to be configured to a total of eleven different options.
Originally posted on May 7, 2011 @ 12:56 pm